Day:
June 2, 2011
"We have been performing regular, thorough testing of the implemented security enhancements.  After investigating further, there is no indication that the claim by [LulzSec] is accurate at the moment," said a Sony spokesperson in an emailed statement on June 02, 2011 12:41:13 AM ET, referring to claims by LulzSec on May 31 that it was successfully hacking Sony.
LulzSec (Lulz Security) is a hacker group who gained notoriety for hacking PBS and publishing a bogus story of Tupac being alive.  Previously, it also hacked Fox.com, the FOX15 Twitter account, and Sony's music website in Japan.
A few days ago, LulzSec claimed to be successfully hacking Sony.  It posted the following on its Twitter account (@LulzSec):
"Hey @Sony, you know we're making off with a bunch of your internal stuff right now and you haven't even noticed? Slow and steady, guys." – May 31 
more on : http://www.ibtimes.com/articles/156397/20110602/tupac-lulzsec-hacked-sony.htm
Contact me at : contactme.bijay@gmail.com
http://computeraddicted.wordpress.com
http://shenanigans-nepal.blogspot.com/

This week, Microsoft revealed a little of what to expect from the next Windows operating system. With its Windows Phone look and touch – literally – and tiles everywhere, it will be a major refresh, but there's a still a number of unanswered questions. Here are my top five:
Can Microsoft keep desktop users happy with Windows 8?
In demonstrations this week, Windows 8 is shown running legacy applications like Office side-by-side with the hip new OS. But the version of Windows 8 that runs on the ARM processor won't have legacy support. That creates an OS quandary.
While Microsoft says Windows 8 is backward-compatible, if I want to take advantage of the most revolutionary features — namely touch and tablet functionality — I'll need all new hardware and probably software, too. So where does that leave Windows users who want all the old desktop-oriented bells and whistles that shipped with Windows 7 with the new tablet-oriented Windows 8 OS?
Do we need Windows touchscreens everywhere?
So Windows wants a piece of the tablet pie, I get that. But I've rarely had any desire to reach over this keyboard and swipe at my screen, be it on a laptop or desktop or even a netbook. I especially don't plan on running out to buy a new system just to have touch functionality.
So, Microsoft's touch revolution is really about tablets, but the company's existing touch-enabled OS, Windows Phone, has a tiny sliver of the market it operates in, which begs the question: Do many people really want to reach out and touch Windows or a touch-enabled version of Word or Excel?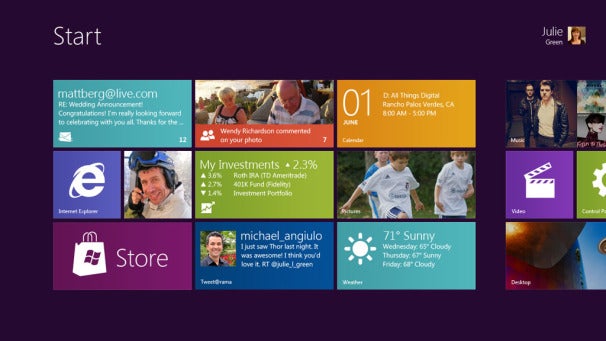 Will all ARM devices have enough power?
Windows 8 looked crisp and clean when running on a sampling of existing laptops and a few tablets, but inevitably some budget ARM-powered systems will emerge. Will they be able to handle all of Windows 8's new functionality? Or will swift switching and rapid refreshing give way to lag, bog downs, and a Windows 8 blue screen of death?
Just how open will it be?
Microsoft is pushing the fact that Windows 8 is based on HTML5 and the other languages that underlie the Web. This means developers can hit the ground running on day one to develop Web apps for Windows 8. But this is a radical shift from Redmond's typical modus operandi (software control freak) and I'm left wondering just how open the company is ready and willing to be. Developers will likely have the same suspicions and may hit the ground at more of a cautious meander than the running pace Microsoft needs to catch up to the coding free-for-all happening in places like the Android Market.
What about Windows Live?
Could this suite of apps, which Microsoft has been honing for years now, be one of the casualties of the move to an HTML5-centric OS? Of course, the company won't kill Hotmail or Messenger, but will they undergo a radical change if the company moves away from .NET, Silverlight, and other Microsoft staples? Or is this RIP Windows Live Movie Maker?
It's important to point out that Microsoft still has several months to answer these questions, and a lot could still change, especially with the release of Mac OS X Lion, due this summer, and Microsoft's expected reaction. Whatever happens, it's good to see Microsoft taking some big risks and steps forward. We shall see if it all pans out.
Contact me at : contactme.bijay@gmail.com
http://computeraddicted.wordpress.com
http://shenanigans-nepal.blogspot.com/
The Free Software Foundation is has launched second editions of two landmark publications by Richard Stallman, a.k.a. rms, "the last true hacker."
The volumes, Free as in Freedom 2.0 and Free Software, Free Society: Selected Essays of Richard M. Stallman, 2nd Edition are both now available from the FSF store as free downloadable PDFs and as signed copies. Signed hard copies cost $50 each.
And while you're shopping, you can also pick up a stuffed baby gnu, the FSF mascot, for $25.
The free-software activist launched the GNU Project in 1983 to create a free Unix-like operating system. He also founded the Free Software Foundation in 1985. The Linux kernel was built on and still supports GNU Project components that came before it and laid the foundation for open-source operating systems.
Stallman is also the main author of several copyleft licenses, including the GNU General Public License, the most widely used free software license.
Stallman's life work revolves around freedom, by which he means four things:
The software should be freely accessible.
The software should be free to modify.
The software should be free to share with others.
The software should be free to change and redistribute copies of the changed software.
These principles underlie and inform the free and open-source software movement, and they also are used in many of the arguments for Creative Commons licensing for art and music.
image courtesy of Flickr, jolieodell 
Contact me at : contactme.bijay@gmail.com
http://computeraddicted.wordpress.com
http://shenanigans-nepal.blogspot.com/
The Chinese government has denied any involvement in the recent Gmail phishing attack that Google says originated in China.
Google hasn't openly accused the Chinese government of being involved in these hacking attacks; instead, it merely pointed out that the attacks originated from Jinan, China, and mentioned that some of them were pointed at Chinese political activists.
Still, even the implication hit the wrong note with Chinese authorities. "Allegations that the Chinese government supports hacking activities are completely unfounded and made with ulterior motives," China's Foreign Ministry spokesman Hong Lei told reporters Thursday.
SEE ALSO: Chinese Hackers Targeted U.S. Officials in Gmail Phishing Attack
Chinese news agency Xinhua took it a step further, openly blasting Google for failing to provide proof that the recent attacks originated from China. "Just as its previous accusations, the world's largest Internet search engine provided no solid proof to support its statement," claims Xinhua.
The incident will further degrade Google's relations with China. They're already shaken since Google partiallyleft China in early 2010 because of censorship concerns and an attack on Gmail accounts of Chinese human rights activists.
[via AP]
Contact me at : contactme.bijay@gmail.com
http://computeraddicted.wordpress.com
http://shenanigans-nepal.blogspot.com/
If you're in need of B-roll for your next YouTube opus, you're in luck. YouTube is adding tons of Creative Commons content to its video editor. The new feature goes live today at noon ET.
YouTube's editor tool, which launched last year, has been steadily adding features to make the process of creating videos fuller, says YouTube Product Manager Jason Toff.
You can access more than 10,000 videos (from C-SPAN, PublicResource.org, Voice of America, Al Jazeera and others) via the CC tab on the editor. You can also tag your own content as Creative Commons, so that other users can incorporate it into their videos.
All content can be used and remixed at will (for commercial use as well), as long as it's attributed. Links to the original CC videos will be listed underneath the video that they're included in.
Toff believes that this addition will help YouTubers get even more creative with their content — in a manner that protects the rights of all content creators (obviously, you can only mark your own content as Creative Commons, and anyone who tries to circumvent that rule will be subject to YouTube's copyright protectionservices).
 Photo courtesy of Flickr, Evelyn Proimos 
Contact me at : contactme.bijay@gmail.com
http://computeraddicted.wordpress.com
http://shenanigans-nepal.blogspot.com/
http://losthacker-deadbj.blogspot.com/